Due diligence: Our Services
We combine the rigor and discretion of an investigator, the technicality & track-record of investment bankers, the geopolitical knowledge of a Think-Tank, and an entrepreneurs' international  field network abroad.
ABI gets involved into your entire value chain: advisors, investigators / auditors, and financial partners.
We've put together over 180 deals in 45 countries for over $ 800M in various sectors: finance, construction, real estate, retail, luxury, defense, F&B, FMCG, defence.
We put our skills and our field technology at the service of large groups as well as SMEs, and we are committed to providing the same attention to both. We have established an  attractive pricing policy for our customers.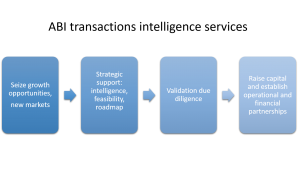 International Advisory Services
« Route to Market »:
Submit a new market:
– Implantation
–  market growth potential & solvency assessment
– Country risk
– Identify key local and international stakeholders
– Competition
– Suppliers
– Legislators
– Identify "Barriers to entry" sticking points
– Generate a long list of potential targets: Distribution Partners; Companies in the acquisition, Joint Venture; Space sales, agents, VRPS, etc..
– Local Management assessment
Our references are numerous and strong in support, particularly in Africa and Middle East
Validation and Investigation tools
Several levels of validation tailored to your situation available to you, and in more than thirty countries:
– Validation of partners: proof of existence "background check" financial items, share, reputation, litigation, property and check international blacklists: financial regulation authorities, embargo lists, criminal, fraud, bankruptcy, etc..
Case study: Due diligence validation potential partner
Submit a business partner in the field of education to make its mark free and allow the partner to take language tests:
Identify the target and its environment:
Evidence of existence: Registration, license education, HQ, subsidiaries,
Ownership, financing
Management
Identify liabilities and business relationships
Stakeholders assessment: Clients, students, suppliers
Reputation online and offline
Loss accounts, late payments
Record Litigation
Backgroud Check: blacklists, embargo, etc..
Gap Analysis: Check references and accreditations
International partnerships announced
Accreditations, rankings, academic results announced
At this stage of validation, we are not in an audit phase, but we issue a qualified opinion, based on your need:
We based public elements systematically cut by several sources of field operating in the sphere of influence of your target, namely:
• – Clients
• – Suppliers
• – Insurers credit, credit managers
• – Sectoral Associations
• – Lawyer
• – CFO (if direct contact with your target is accepted)
• – employees, general atmosphere
• – Former Employees
Advanced Due Diligence
Intervention and enhanced human analysis, call employees and partners, performance analysis.
Case study: Mission Greenfield project
Due diligence for the construction of a hotel project Greenfield
Validate a hotel project Greenfield's feasibility : partner, land, licenses
- Identify the target and its environment:
– Proof of existence: Registration, Licensing, HQ, subsidiaries,
– Ownership structure, funding
– Management
Acquisition or investment due diligence
Internal Audit for third parties, interviews, on-site visit, Due Diligence process as part of entity creation, acquisitions, joint ventures, or validation of an investment fund.
Case study: Due diligence on alternative investment funds
– Validate a fund, its officers, investment strategy, exposure to risks,
- Identify the target and its environment:
– Proof of existence : Registration, Licensing, HQ, subsidiaries,
– Ownership structure, funding
– Management
- Identify liabilities and business relationships
– Assessment Stakeholders: Customers, suppliers
– Online and offline Reputation
– Income statements, payment terms
– Litigation record
– Check Backgroud: black lists, embargo, etc.
- Analyze investment methodology
– Grid risk, VaR and other relevant indicators
– Track record of investment and exit
– Governance, management methods
- Gap Analysis:
– Performance differencial displayed / reality
– Grid commissions and managements costs
- Gap Analysis: Analyze the value of rights and licenses, the accessibility of the terrain
– Analyze and interpret texts of licenses and associated legal risks
– Check the actual availability of the land (real owners and beneficial owners, customary rights, etc.)
– Identify the real decision-makers on permits and hotel operation
Fight against fraud and litigation
---
« Track 2″: Fight against fraud, scams, disputes between parties
ABI helps you avoid fraud during the entire cycle of your relationships with your customers / suppliers / acquisition / Partner Target:
– Upon entry into relationship
– During the relationship, by implementing predictive behavioral models and generators operational tools alerts for reducing the possible attempts of fraud.
– After the relationship or acquisition, ensuring a permanent standby to measure.
– On an e-commerce site attempts fraudulent orders on commercial websites amounted to 1.7 billion euros in 2012.
– On a social network
Our teams are active members of the prestigious ACFE (Association of Certified Fraud Examiners which is  the team that brought to light the massive fraud B. Madoff despite lax US authorities at that time).
We have participated in several missions « Track 2″ identification of fraud, corruption schemes, debt collection and various disputes including:
– In Yemen
– In the United Arab Emirates
– In Luxembourg
– In Swiss
– In France
– In Gabon
– In Malawi
In the following areas:
Oil industry
Finance
Wine and spirits
Agribusiness